Cute bunny folding boxes for small gift wrapping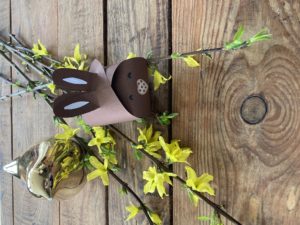 Easter is the time of little things. How about DIY folding boxes in Easter nest filled with small Easter gifts.
With this sweet folding box for Easter your small gifts come out especially big. Candies and chocolate eggs fit in well here and are especially well set off by their delightful packaging.
Actually, HvC stands for cardboard boxes and large packaging – but sometimes the small, homemade has its charm.
Curious now? Then we show you in a step-by-step tutorial how to make the cute bunny folding boxes yourself. Not only fun for kids – promised!
For folding boxes craft you need the following materials

Material:
Construction cardboard or clay drawing paper in a color of your choice
White cardboard or clay drawing paper for the ears of your folding box for Easter
Bunny template, this can be downloaded here
Also:
Scissors
Adhesive
Pencil
Black felt tip pen
Small heart shaped stickers for the nose – optional
Folding boxes craft Step 1:
Pre-draw the folding box gift box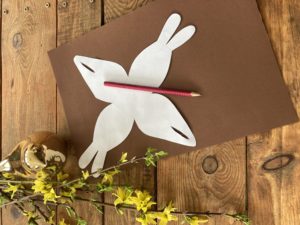 Place the cut out template on your cardstock or clay drawing paper. Now draw the outline of your folding box gift box in pencil.
Be sure to place the template as close to the top edge as possible to leave as little cardstock unused as possible.
Folding boxes craft Step 2:
Neatly cut out and fold the folding box for Easter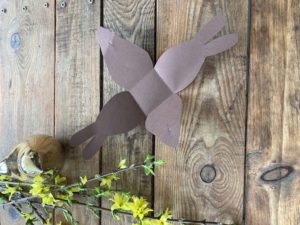 Once you have pre-drawn the folding box gift box, it's time to cut out. Be sure to cut neatly and cleanly so that your gift wrap will fold up nicely when you're done.
Once you have cut out the border, neatly cut out the slits for the ears as well. Our tip: If your scissors are too big, take a clean pair of nail scissors for the fine work.
Next, fold each side piece once to center, creating a square in the middle.
Folding boxes craft Step 3:
The ears through the flap and decorate as desired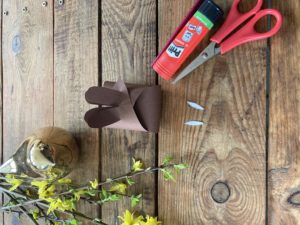 Almost there. Now it gets a little tricky. The filigree ears of your folding box for Easter must now be threaded through the slots provided. Children need some help here.
To do this, it is best to place the two ear spoons of both bunny-shaped sides of your folding box on top of each other and carefully guide them through one of the tabs. Following this, do the same for the other flap of your folding box gift box.
Now you can warp your finished folded box gift wrap as you wish. We opted for white inner ears and a sticker as a heart-shaped nose.
Et Voilà: A super cute folding box as gift packaging for Easter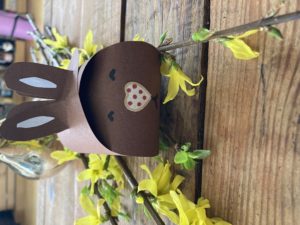 Small attentions or but the one or other snack find enough space in this sweet folding box gift box.
Make your loved ones happy with a lovingly crafted folding box for Easter and cleverly set the scene for your small gifts.