Cooperation between HvC & Physio CKI starts with a "KickOff


Start of the first health day
The "KickOff" of the first Health Day in the company's history, started with 40 highly motivated and good-humored employees of our company Hubert von Carnap.
After a short welcome, all participants received an individual
Training and treatment plan from the professionals at Physio CKI that allowed him/her to hit the ground running.
The main focus of the "KickOff" was to get to know the diverse range of services offered by the
We would like to thank our cooperation partner Physio CKI and its dedicated staff, who always ensured a good mood and professional care.
There was something for everyone
In addition to individual physiotherapy treatments, our employees were also able to try out group exercises such as back school to actively strengthen their back muscles.
In order to get to know the holistic offer of Physio CKI, it was also possible to try out strength and endurance training in the company of a physiotherapist. So everyone has been able to find their favorite here to stay fit while working at HvC.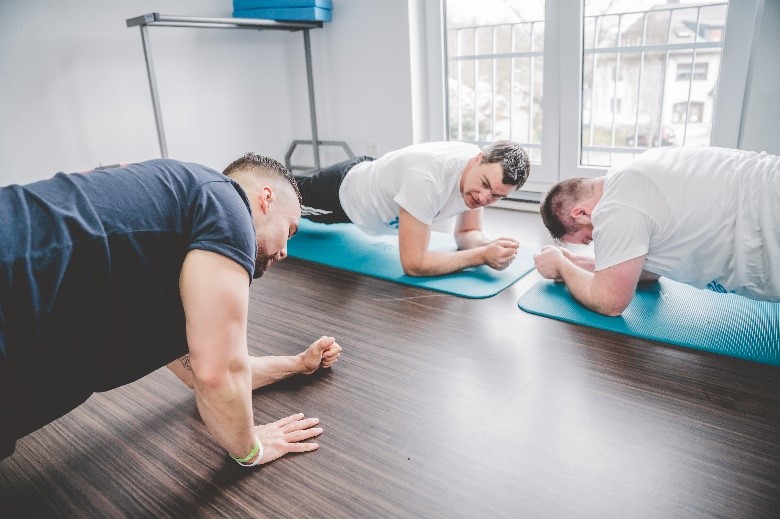 In addition to the modern exercise rooms and the great training and treatment possibilities, our employees were also very enthusiastic about the small stand-up café, as here nice conversations and exchanges about training and treatment, as well as private topics with colleagues and therapists arose during the breaks. The eventful day came to a pleasant end with a final brunch.
A successful start all around
All in all it was a great day with exercise & fun in the foreground
stood. In addition, it was a nice team event where all colleagues could talk and exchange ideas in a relaxed atmosphere, detached from the daily company routine.
The "KickOff" marks the start of the cooperation between HVC and Physio CKI, in which each of our employees will in future receive two treatments a month free of charge to strengthen their own health.
Become a part of this fit team
Due to the good order situation we are currently looking for new, motivated
Workforce. If you would also like to be part of our team and also enjoy the benefits of our "health cooperation", we look forward to receiving your application.
For more information, please visit www.hvc.de
For the workforce,
Martin Trojca